Because the focus of this month's newsletter is on MLI's Church in Mission work, we will use this time and space to introduce you to Emanuel (Emy) Vasile. Emy lives and works in Cimpina and, alongside his father, Ion Vasile, now pastors several congregations in the southeast area of Romania (about a 90- minute drive from Bucharest). Having met Emy as a very young man a number of years ago, it was truly inspiring for me to catch up with him (June 2022, at the Alpinis Leadership Center) and get a sense of his vision for his leadership role within the community to which God has called him. Emy and I (Kenny
Woodhull, Missio International, Executive Team) have been able to continue our "conversation" via email and hope you might be blessed by listening to it here in an interview format.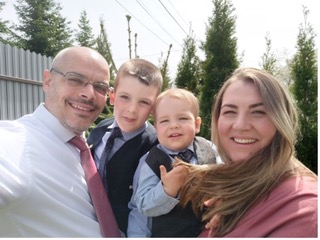 Emy, David, Filip, and Cami Vasile
Kenny: Emy, please tell me a little bit about your education, your work experience, and the congregations you are now serving.
Emy: I have a bachelor's degree and master's degree, both in Economics. I am currently serving as Assistant Pastor along with my dad at Maranata Baptist Church Cimpina (50 members + 15 children) and Harul (Grace) Baptist Church (20 members) which is in a mining village 25 km south from Cimpina. I was ordained June 2021. Before that, for almost 10 years I worked as a sales manager with an international distribution company (FMCG) and was later assigned as an account manager.
Kenny: What do you most enjoy about your work…and what are some of the areas of greatest challenge for you and those you are working alongside?
Emy: Working with people while serving the Lord is what I enjoy the most. Though it is said that working with people is hard, I find it deeply enriching. It was what I really loved with my former job and now the fulfillment is even greater as the work is more directly for His Kingdom. One of my challenges is to increase my theological knowledge in order to respond to the church's needs. Ministry wise, we are looking for opportunities to get more
involved and to get better connected with our local community….I feel strongly that we need to be more relevant in our "Jerusalem."
Kenny: What skills, experience, and perspective from your previous profession serve you well in your current pastoral role?
Emy: I can see how God put it all in order…. I have been use to having people around me all the time. So, learning how to motivate people was helpful. This has now transformed into encouraging God's people to "run the race." The organizing skills are a blessing. I had the chance to take sales teams for team-building. So just yesterday the two congregations returned from their first ever team-building retreat. We spent four days at a place in the mountains, and what a blessing it was! New members were integrated into the group, and we all got to know each other better. We had outdoor worship, and the whole area resounded with Christian songs. Some went hiking. Some did other activities. Putting all this together took time but it didn't seem difficult since I had done it before.
Kenny: What were the circumstances surrounding your vocational transition?
Emy: Some years ago, my father told me that he was thinking about retiring. He asked me to consider if I would enter the ministry and take over the role. As I had said at other times, my first answer was: "No, I don't think I'm the one." But this idea started following me, and I began to see ministry opportunities and gaps that I could have covered. I wasn't able to get this thought out of my mind. What I believe to have been the decisive moment happened five years ago. We were praying for a baby…and he came after eight years of marriage. After all this wait, one week after David was born, he was diagnosed with a severe heart condition and needed immediate intervention. Our world collapsed, and for the next month our lives were turned upside down. But God carried us in His hand and opened doors that seemed impossible to open from our human perspective. At the age of three weeks, David had an intervention at a hospital in Romania. And although the doctors said, "naturally there can't be an improvement," David has gotten better…with every check up! September 22nd is David's birthday, and we are thankful for this five-year long miracle! At the time, I realized how helpless we are unless God is on our side and that any material or career achievement means nothing if not in His plan. It took me another three years to accept the call. It is not easy, but I am glad I did.
Please join me in praying for Pastor Emy Vasile, his wife (Cami), their two sons (David and Filip), and the local churches he and his father, Ion, work faithfully with in Romania. In Emy's own words: "please pray for members to take seriously the ministry God has entrusted to each us, to be His ambassadors; and for people in the community, that we would be a true light in their midst and an open place for everyone in need." As you lift up Emy, remember that he is one among hundreds of church leaders who are served by Missio Link International across Romania, Serbia, and now, since the war, in Ukraine.

Kenny Woodhull
MI President