Dear Ministry Friends,
Summer can bring many delightful changes to our routines with new
opportunities to connect with family and friends, watching a well-tended garden produce vegetables, cooling off in a lake or just taking in the scenery along a leisurely drive. It is no different for our MLI friends in Romania as this summer has brought several longed-for, and much appreciated, new routines to their ministries. Alpinis Leadership Center is beginning to welcome groups and God has cleared the way for several mission teams to visit Deborah House and the other Children at Risk ministries like Back to School, Harmony, Aspirations and Mitspa House. We caught up with one of the recent mission trip team leaders, Megan Moore, from First Baptist Church of Clinton, and here is what she had to say…
"Our team's focus was to love on the 25 girls at Deborah House who have been rescued from abusive situations, some even from human trafficking. All have come to be protected and begin their healing journey. Something we noticed was transformation in the girls through their week. Many were guarded and uninterested in engaging with us. But by Friday, they had grown to trust us and freely embrace us. All glory to God, because they saw the love of Christ, they were able to more freely accept love. We spent the days at Deborah teaching an inductive Bible study focusing on prayer. We also emphasized that their worth is in Jesus & that they were uniquely & beautifully made."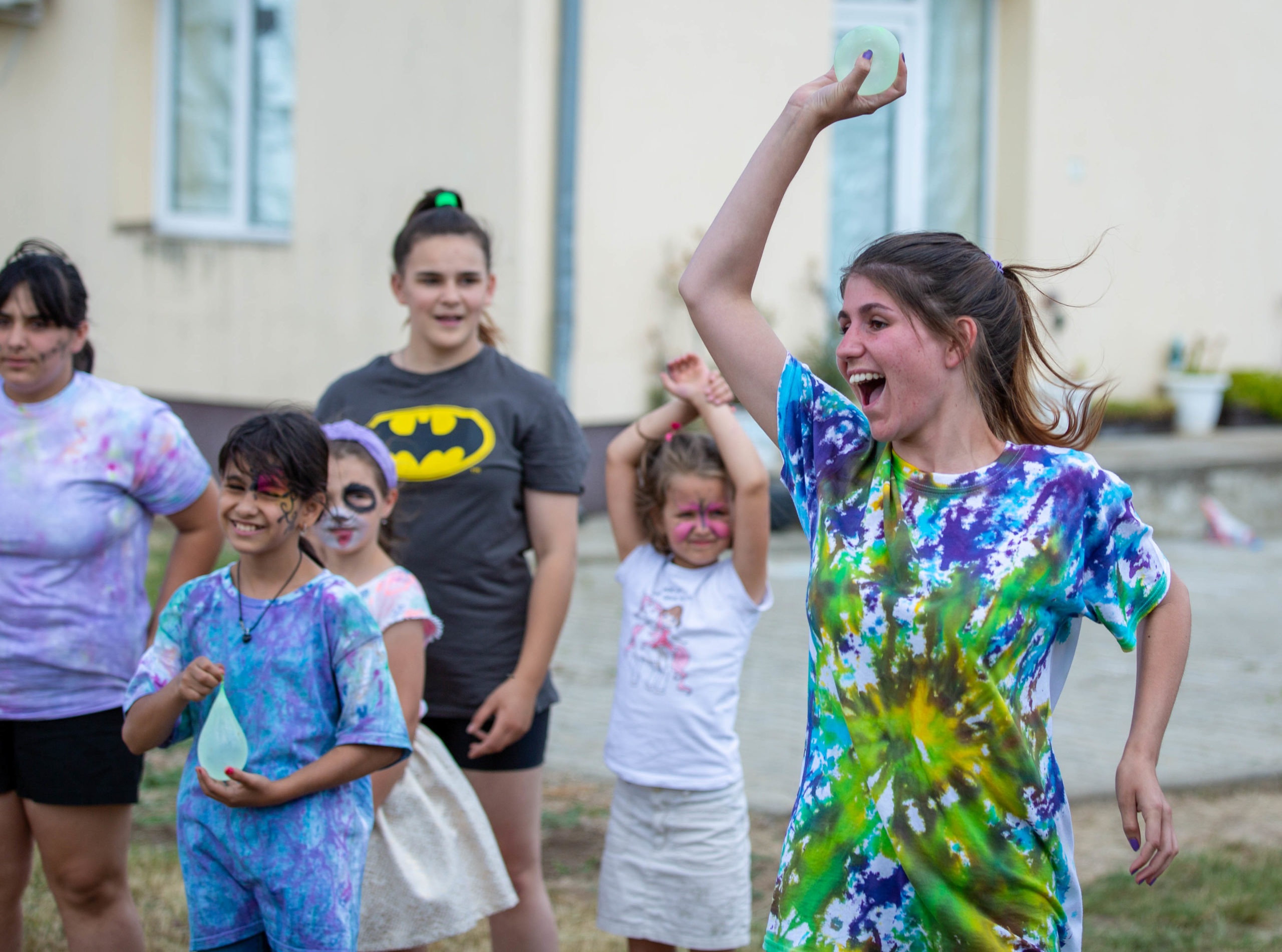 Cooling off with new friends and water balloons at Deborah House
Whether through an exciting break in routine brought by a visiting team, patient counseling with a trauma expert, or the consistency of shared meals around the Deborah House table, Christ's love is healing the broken lives of the girls who have come to call Deborah House home. This unique and powerful ministry can only continue with the support of others, so we are grateful for our friends at Hillsborough Free Presbyterian Church in Northern Ireland, who for the 12th year, are offering a matching grant challenge to our donors in the US. They will match, dollar-for-dollar up to $10,000, all donations given to the Children at Risk ministries in the coming weeks. Please consider if this is an opportunity for you to jump in and be a part of God's life-changing work in the lives of so many in Romania. Include "HBMG" in the memo line of your check or in the comment box for online giving and may you, too, be refreshed by the Spirit in new ways this summer.
Blessings,
Lauren W. Clevenger
MI Knoxville Team